Marilyn Ingram
visual artwork and music
---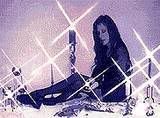 Marilyn is a native North Carolinian who studied at the University of North Carolina at Greensboro, majoring in studio art. She has also completed years of workshops in the book arts, calligraphic hands, watercolor technique, embossing and gilding under the direction of several master craftsmen including scribe Peter Thornton of Litchfield England and Chris Yarborough of the USA, who was a well respected craftsman and bookbinder, among others.

Marilyn has been in vocal groups and bands all her life. She is currently a singer/songwriter for the acoustic pop/rock group, AURA3, contributing lead, harmony and back up vocals as well as the majority of the small percussion.
She is the daughter of respected and classically trained baritone soloist, the late Norman McGee, who performed with USO shows during WW2 and had his own radio show in the 1950's and later was the featured baritone soloist for Handel's "Messiah", The "Seven Last Words of Christ" and other classical religious works.
Her Mother, Margaret was a much respected master craftsman and seamstress in the decorating arts and clothing.
Marilyn and the ladies of AURA3 have had the honor of touring extensively with Peter Tork (the Monkees, Shoe Suede Blues), James Lee Stanley and have also appeared on stage with Mitch Ryer, John Batdorf, Monkees tribute Pleasant Valley Sunday, Chad Ray Crochet.
Marilyn is honored to have been the former manager of Peter Tork and his band Shoe Suede Blues. She is currently the Executive Director of The Lewisville Area Arts Council, Inc. (The LAAC) and works as a publicist as well as agent for Woodland Moth. She is a promoter for many outdoor festivals, events and concerts since 1991.

---
Marilyn's songs have been contributed to several CD's including:
---
Marilyn Ingram: Moth to the Flame - Marilyn's best tunes from her years with AURA3. Available as a digital download!
---
AURA3: Dirty Angels includes: Dirty Job (James Lee Stanley), Instant Heaven, (Don't) Let Me Go, (Marilyn Ingram), Dirty Angels (Marilyn Ingram/Nancy Smith), King of Mars and King of Mars remix (Marilyn Ingram), Bad Timing (Dodi Shore), Moth to the Flame (Marilyn Ingram)
---
AURA3: For Pete's Sake includes the title track by Peter Tork, Work It Baby (Ingram/Shore), I'm Not As Innocent (Smith), Leave This 'Ol Town, My Dream / My Fantasy, Water Under the Bridge (Shore), Once Touched by Flame (James Lee Stanley), Crazy Love, Ageless & Timeless, Let Me Be Your Angel (Ingram) and Old Man (Neil Young)
---
AURA3.com AURA3 Official Site
---
Fetch Me That Flower - is a piece designed around 60ish flowers created with water colour technique. The words, lettered in the italic hand, are from William Shakespeare's "Midsummer Nights' Dream." This particular piece sells for $50.00 plus shipping and handling. Add Artwork to Cart
Detail
---
Love Squares Series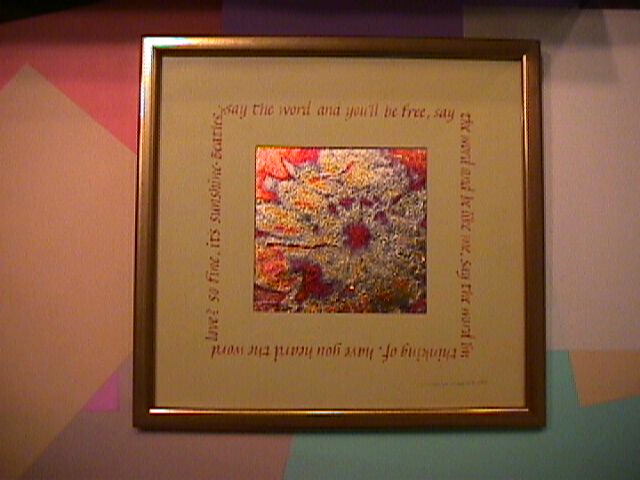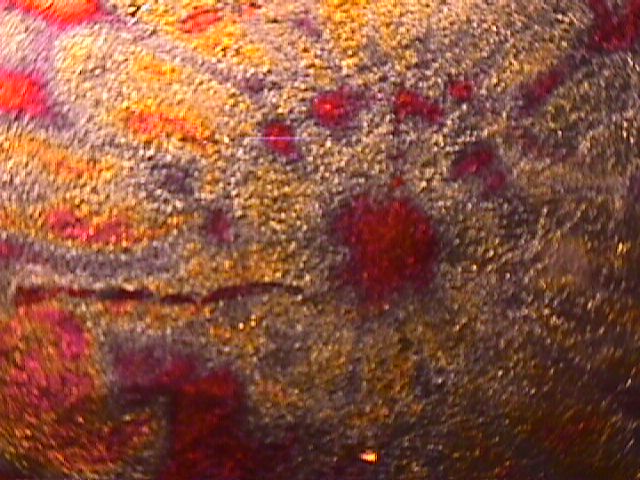 The Love Square Series are based on more of Marilyn's favorite song lyrics by The Beatles (The Word Love, All You Need is Love, Here Comes The Sun) and the Monkees' Peter Tork (For Pete's Sake.)All of the pieces feature lettering around a gilded square of golds, oranges and reds (detail shown) Love Squares are matted in yellow with gold frames OR in white mats with white frames. You may have a piece custom made by selecting the lyric you want incorporated into the artwork, and the mat and frame color -(all white or gold frame and yellow mat as shown) The finished pieces measure inches square. All artwork arrives ready to hang.

Love Square I: ...all you need is love....(Beatles)
Love Square II: ...here comes the sun, and it's alright....(Beatles)
Love Square III:...love is understanding, don't you know that this is true?...
(Peter Tork - The Monkees)
Love Square IV:...have you heard the word love?, it's so fine...sunshine...(Beatles)

Select any piece - framed, ready to hang - and mailed to your door with a note from the artist - $150.00 - Add Love Squares to Cart

---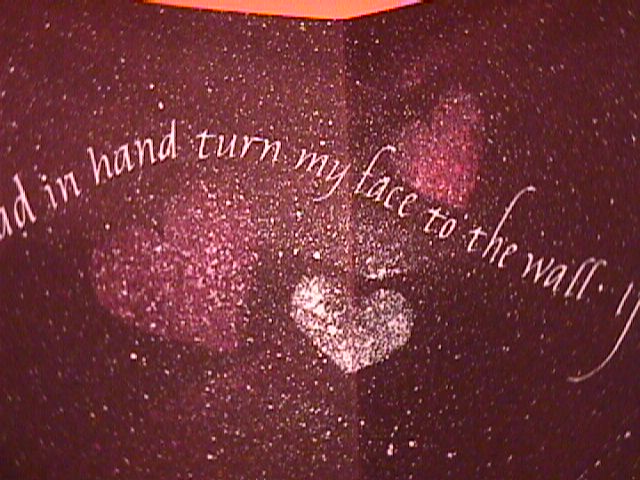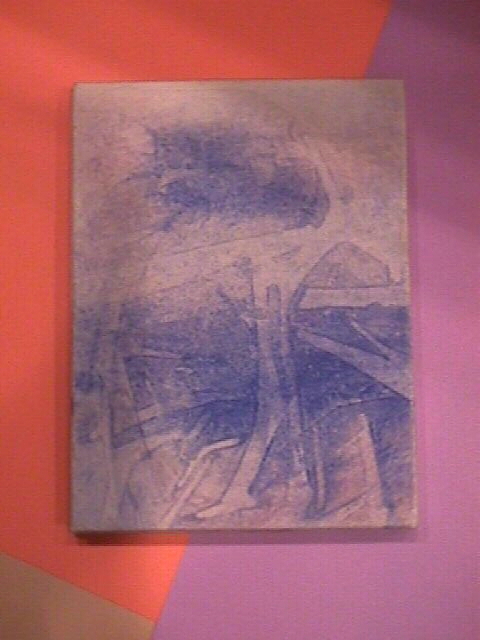 Japanese Folding Books - Here you see a few detail shots from several different books. The burgandy piece with the hearts features water colour technique, the italic hand and a piece of a Beatles lyric ("Hide Your Love Away.") The fuchsia book has flowers created by water colour technique and gilding, the italic hand and another bit of Beatles lyrics ("The Word Love") All books are entirely handmade. The cover boards feature papers marbled by the artist or created by watercolour technique.

The artist has also created a folding book with the lyrics from "For Pete's Sake" which features gilded flowers, the italic hand and various shades of oranges or teals.

You may select any of the books for $45.00 inclusive of shipping.
Add Japanese Folding Book to Cart
---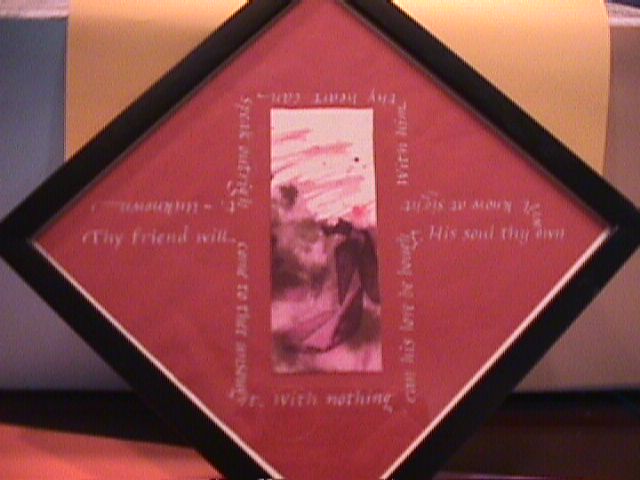 Back to Woodland Moth
Ring of the Woodland Moth
---
Powered by WebRing.