---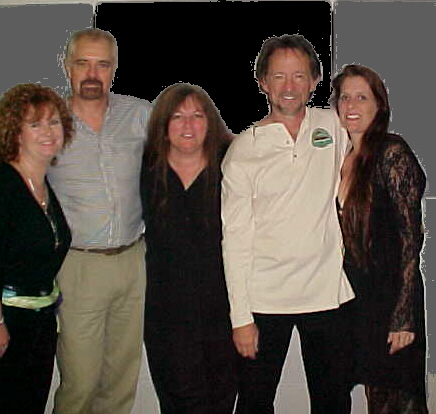 Peter Tork & James Lee Stanley w/ AURA are set to go on the road in 2004. Touring in support of a new Two Man Band CD, Peter Tork & James Lee Stanley:Once Again as well as an group performance on AURA's new CD, For Pete's Sake, this new ensemble show is a must see for all Tork, Stanley and Aura fans.

Peter Tork and James Lee Stanley: TWO MAN BAND is exactly that...two guys, two guitars, too much fun and a lot of fabulous music. Performing their original works as well as some well selected covers, Tork and Stanley weave vocal harmonies and masterful guitar licks into a wonderfully warm tapestry that will both warm and delight audiences of all ages.


Tork and Stanley's duo performances include selections from their two duo CD's, the most recent release being "Peter Tork & James Lee Stanley: Once Again."


(Tork and Stanley) accompany themselves with acoustic and electric guitars, and this, in combination with their awesome harmonies, creates an incredible sound. Fans of both Tork and Stanley will enjoy this,(CD)as well as fans of well crafted folk/pop/soft rock music. ~ Aaron Badgley, All Music Guide

AURA is a female acoustic trio of singer/songwriters whose works present an eclectic mix of original music focusing on the blend of three distinctly different voices and styles. Rising from the rich musical heritage of the piedmont area of North Carolina and the mountains of West Virginia, AURA creates pop/folk for a following that knows no age limits or boundaries.


...Crosby, Stills, Nash or Cat Stevens...Marilyn, Dodi and Nancy have unique voices that work well together, and their harmonies are flawless"~ Go Triad! Magazine


Tork and Stanley w/ special guests Aura, will be touring behind their various CD's beginning in the spring of 2004. Check out the following links for complete information...
---
---
Booking Information: Traces/For Pete's Sake

Woodland Moth Productions

woodlandmoth@aol.com
Winston-Salem, North Carolina USA

---
Upcoming Events
9/18/2004 - The Grape Jam Wine & Music Festival - Black Wolf Vineyards - Dobson, NC - Peter and AURA3 are confirmed - hopefully JLS soon! Watch this space!
There may be a Friday 17 or a Sunday 19 show - keep checking back.
10/2/2004 - Monkees Convention 2004 - Silverton Casino & Hotel - Las Vegas, NV - James, AURA3 are set to play, Peter is tentative, watch this space for confirmations
Back to Woodland Moth Visual & Performing Artists


---